Here are two articles from czech newspaper. It describes practicing jiujitsu by japanese ambassadors (Mr. M. Y Sugimura).  Event  was hold by japanese-french club.
Source: 1938-01-31 - newspaper Lidové noviny
Here is info -  japanese diplomat Mr. Sugimura throws younger judo teacher Mr. Kawashi
Source: 1938-02-02 - newspaper Národní listy
Here is info, that practicing jiujitsu is favourite sport in japanese ambassadors. Sugimura was university champion in jiujitsu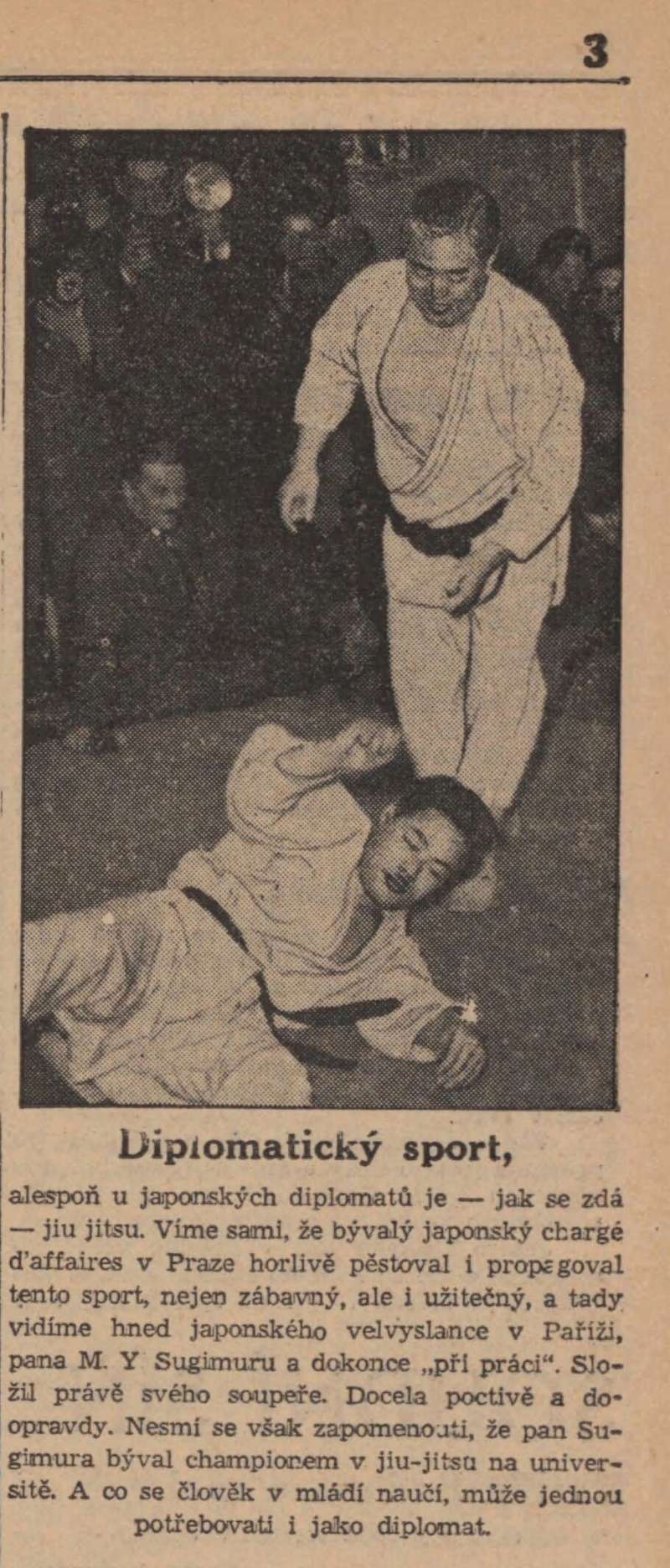 In Prague from year 1934 to year 1937 was japanese charge d'affaires Mr. Noboru Ogawa - he was known supporter of czechoslovak judokas. He practiced judo 10 year in Japan and Kodokan (in his highschool and university years)
Mr. Ogawa was very good golf player. He won some tournaments in Prague too. In years before Olympic Games 1936 in Berlin he invited lot of japanese sports team to Czechoslovakia (gymnastic, athletes, wrestling, ski jumpers, ice hockeys, BrE hockey and oiher). He invited and paid staying and teaching judo  from Ichiro Hatta and Kenji Sugimura in October 1935 (two weeks). He invited for visit Mr. Jigoro Kano to Czechoslovakia (11. September 1936).
In january 1937 Mr.Ogawa with his wife and daughter leave back to Japan and no more info about him.
If you know him or have you got any next info about Ogawas's life and career please give me know. Thank you.
Here is one czech arcticle from him about judo: