At the occasion of the 50th anniversary of the French Judo Federation's International Association of Judo Friends, a weeklong judo seminar was organised. French Judo Federation, the largest in the world (almost 600,000 members) put great effort into attracting exceptional cast of teachers known to  be difficult to convince accepting invitations and having high demands. Minimal rank for paticipation was 6th dan. Seminar was attended by 180 judo masters between 6th -9th dan from France, Japan, Switzerland, Holland, and other countries, with excellent result.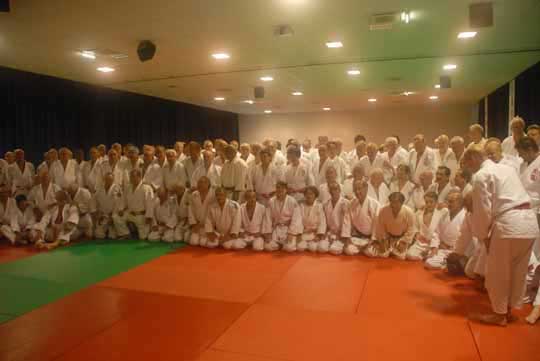 Okano taught tachi-waza technique introducing several basics, tokui-waza standing and matwork, and ways to teach beginners. Sometimes he offered his own pedagogy different from Kodokan. Master Okano, now over 70 years old, impressed by purity and lightness of his judo. Sensei Okano was in top-form smiling, making jokes, and also demonstrating powerful kiai. Participants were told of Okano DVDs soon being available with translation, and also full movie Passion for Judo of which internet version is just 1 part of 3 parts.
Sensei Legien, Polish double Olympic Champion in two different weight classes 78/86 kilos taught tachi-waza and newaza aimed at elite judoka. His judo was very vigorous having allowed him to win two gold medals, but his judo was also very different from Okano.
Sensei CK taught about 10 Kodokan katas and 9 other Japanese judo katas like from Mifune and Hirano. Clinic was exceptional leaving deep impression of erudition on both Japanese and European judo masters, but no filming allowed. Questions went on for hours until late in the night. On subsequent days also members of the public not judokas came to listen, especially to his teaching about the essence of the itsutsu-no-kata and about judo kata culture. Many present spoke of "kata revolution".
There were also seminars on medicine and judo health.
Last day professional film crew visited to make judo documentary for TV, about judo culture and about invited expert teachers. It was said CK declined participation, showing respect for and leaving accent on great champion Okano.
Special reception was held by federation president and IJF secretary, 9th dan Jean-Luc Rougé, who congratulated invited teachers, and there was also a conference to celebrate Master Okano. Earlier there was also a conference in Paris about Master Okano. 10th dan Courtine was announced to visit to talk about judo in early days, but had to cancel.
Seminar was enormous success. Japanese judokas said seminar unique and of level above Kodokan especially real judo technique and pedagogy quality.