So I think I found my tokui waza, and I'm eager to practice it, but I have a problem. ...I'm not sure what the proper name of the technique is.
See, shortly before I got injured, my sensei taught us what he calls Seoi Otoshi, but what he calls Seoi Otoshi is vastly different from what the general consensus says Seoi Otoshi is (basically a drop seoi-nage sans the springing back up on your feet as you throw) whereas what he taught us is closer to what is listed as Seoi Otoshi here (second technique in the habukareta waza section) or a variation of Tai Otoshi.
So I've resorted to using my drawing skills, which are more or less on par with my Judo skills (that is to say, non-existent) to resolve this dilemma. Hopefully the drawings and accompanying explanations, crude as they are, will help you help me, and not hinder you. Here goes:
1) Tori grips Uke's right sleeve and left lapel.
2) Tori lifts Uke's right arm.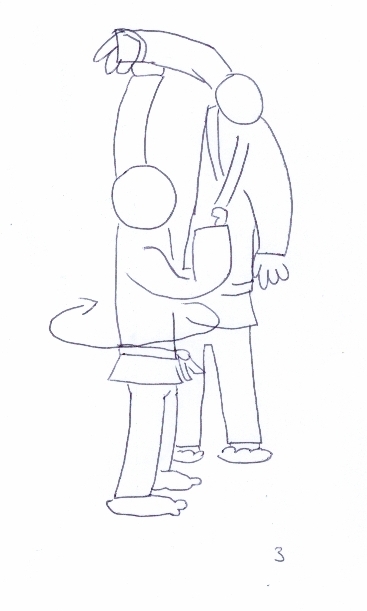 3) Holding Uke's right arm overhead, and maintaing the grip on the left lapel, Tori rotates clockwise in front of Uke.
4) Having finished the rotation, Tori extends left leg to the side as they bring Uke's right arm to rest over their (Tori's) left shoulder and pulls forward.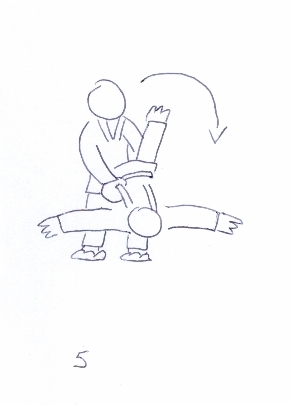 5) Tori releases grip on Uke's right arm, but maintains grip on left lapel. This is very important as Uke will not be able to fall safely otherwise.
And to answer the inevitable question, I don't just ask my sensei for further clarification because I'm not ready to go back to the dojo yet.